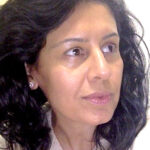 The attractive young woman in a form-fitting, simple black dress stood at her husband's bedside. She wanted to express all of her hatred. She wanted to pour out all her pain and her heart to him. Her soft, dark eyes were teary. She knew he was hopeless, and his body had no power for hostility and abuse. His authority to control her was diminishing. She thought to herself, This superior man finally is in his cage by his lack of compassion and empathy. This man, so demeaning to her that he ruled her entire youth as a dictator, now had no control of his emotions, fears, and self-consciousness. And for her, as a woman of virtue, ethics, and principle, she concealed her thoughts and feelings all these years.
But in this moment of clarity, she felt victorious. She could lay all the pressure and anger and bitterness on his cold chest once and for all.
From the day she arrived at his house as a young bride, she had drifted under her middle-aged husband's authority with no power of conviction of her mind and body. For all these years, as she grew into a beautiful and bright woman of twenty-nine, with all the wickedness and brutality of her husband, she remained clear-headed and sane. But now, she had a chance to take it all out.
She sat on the chair next to the bed. In the small hospital room that smelled of sickness and death, life was unbearable. The man lay peacefully on his bed. His white- gray hair was in disarray. His face was still stern and gloomy. The knot on his forehead that was the mark of his uncontrolled anger was still in place. By looking at his face, sad memories arose on the surface of her heart. She could feel beyond his closed eyes and sleepy thoughts that he harbored brutal desires for her to be still tormented.
She took off her wedding band, the only piece of jewelry she wore, and placed it on the food tray on the bedside table. Her raw feelings flowed freely, and she started to speak.
"I hope you can hear me, you selfish man! On the outside, the world perceived you to be honorable, and yet you have stolen my true identity, my self-worth, my youth, my self-preservation to be who I want to be. You beguiled my family with promises you never meant to keep. You used and deceived my body and soul for your advantages to make it utterly fruitful and joyful. But with all your desire to control me, you still couldn't accomplish your goal. You never steered my heart and my mind to bend to your wishes. Yes, you have used me for your pleasure. Even though you are officially my husband, unofficially you have treated me with such disrespect that I have no intent to forgive you."
Tears of strength overflowed deep within her aching heart. Her hands clasped together on her knees, and with a long sigh of despair, she continued.
"Even though this life was forced on me, I have learned to embrace any difficulty and danger, and not to hide from it anymore. I wish you could see your behavior and demeaning character from my perspective that you have not only harmed me, you have also betrayed yourself. As years went on, my spirit and soul deepened, and a transformation took place in my heart. Please do not presume that you could hear me, or understand me. Now I have the courage to go on without you. I know the time for me to seek out refuge in nature, reading and writing. I knew that when life sought me out, I should let it. So here I am to say my goodbyes."
The fog of a cold autumn day covered the hospital yard. The playful wind that danced with the trees knocked the window of the hospital room as if to say that it witnessed the rise of courage.
***
An unusual romantic relationship consumed her entirely. For a woman that should preserve her morality as a young widow, the thought of her to never remarry was unbearable. In Islamic culture, a widow falling in love was sinful and dishonorable. She was very much against the concept and the fears surrounding that honor. To her, a woman of her well-educated mind she kept polished by reading books, she was keen to fall out from the circle of boundaries.
The idea of staying with her in-laws, serving them and looking after their wellbeing was a frustrating and unthinkable fact she must endure. As a barren woman who did not conceive a child during her five years of marriage, she went through much pain and disgrace.
Her husband, a military man who was officially respectable and unofficially a cruel man, married this beautiful, college-graduated young lady upon his father's request. As a well-trained military officer, he fought in war zones against guerrilla warfare—Mujahideen. But his achievement as a husband was overtaken by the power of dark societal rules. Those five years of marriage he manipulated his bright and open-minded wife by emotional blackmail, saying that if she brought a child, everything would get better for her.
The cruel game of manipulation to a woman who had no control of her body was despicable.
As time went on, the sexual desire she had for her husband faded; she started to believe that her happiness was in the hands of her wicked husband. She gave herself to hope that one day she would have a child, and then she would fly on the wing of happiness far from all the unwanted misery and pain. She hoped for a sunny day with the smile of a child and a touch of assurance and love.
After her husband's death in one of the war zones in Southern Afghanistan, her days darkened. Her in-laws considered her a burden. They concealed their hatred, but the wickedness and coldness of their actions reflected their inner thoughts. Now, she must be stronger than before. She couldn't lose her clear head; she knew anyone with a sharp mind can achieve anything.
With this thought in mind, her style of positive thinking developed, and her frustration subsided.
She met her late husband's second cousin who lived and studied law overseas, who now worked in this abandoned city as a lawyer. His plight, Protecting the Rights of Orphans and Children Deprived of Parental Care, intrigued her.
She met him at a dinner party in his honor at his sister's house. He was a man of medium height with warm, inviting brown eyes, and he sat in her thoughts with adoration. He found a moment alone with her in the kitchen while she was helping his sister, a well-mannered woman in her early thirties.
"I heard that you have no children. How has this life treated you?"
She looked at him with a smile and answered: "I guess that was the first thing they told you about me. Yes, I am a childless woman and a burden on the shoulder of their broken honor and society. I think marriage and children do not make us happy until we have the capacity to love first, but who am I to judge?"
"I didn't mean to offend you," he said. "I admire your strength. As a matter of fact, I heard a lot about your loss, your fight against fear, and your power to rule your life with reason. And my mother and sister adore you."
Those words of wisdom and comfort sunk in her heart, encouraging her to love and hope again. She knew that he was interested in her welfare.
She looked at him as if she was looking into the mirror. Her inner beauty craved his touch; she wanted his strong hands to devour her body, to take her in his arms, to consume her with pleasure. She smiled shyly at him. Those thoughts threatened to awaken her very soul.
To her surprise, she saw the pair of glowing brown eyes stared directly into her heart with passion and a purpose to love.
The sparks of a new era of goodness and kindness caught fire, radiating an energy for positive change in her life.
Shahla Latifi
December 2016