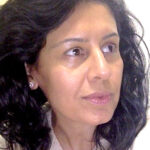 Even on a spring day, a city where ancient culture, tradition, and poverty manifested in the hearts of people smelled of dust and smoke.
On a sunny sidewalk corner, a young girl in a faded blue shawl seemed to know her way in life. She was short, less than five feet tall, with a beautiful round face and two green eyes that reflected the wisdom beyond her years. She perceived the people on the street very well. She knew how to tolerate their cold glances with the depth of her needs.
As the mild wind of a new day swirled among the busy streets, she cradled a small baby to her. The infant was a miniature replica of her with the same fair skin and soft brown hair. In a quiet voice she whispered into the child's ear: "As life can be bitterly cruel, your mother has to do her best to survive. Even though I never pity myself and never consider you the product of rape, life has forced this upon us. One day, my dearest, when you grow up, you will understand all sorts of problems and needs in life. And you will be able to see through me how much I cared for you. But I hope you will never remember these moments of desperation and beggary."
The child was quiet in her arms and seemed to be familiar with the busy streets of Kabul. He did not show any sign of unease. Suddenly, as if he didn't want to hear more about his mother's pain, he started to cry. He wanted her love and adoration. Greedily, he began sucking on his fist and grabbed the front of her dress. He wanted her milk.
"You are hungry!" the girl said. "Oh, I know, my dearest, I know you must be hungry. We have been here for hours." The long grey dress that enveloped her lent a beggar look that could not go unnoticed. Even though she had a small frame, she looked mature, well into her adulthood.
She couldn't stand her child's discomfort any longer. "My dearest, not here. I can't feed you here. Wait!"
The baby cried loudly, angrily, as he wanted milk and comfort. The young mother was agitated and sternly spoke to the child: "We will leave soon. Calm yourself. See, if we could make one more Afghani, so we could go home and rest for today."
But the baby could not understand the capacity and weight of pressure that rested on his fifteen-year-old mother. He could not understand anything but care and love. Just like some melodies reflect our memories, the child's cry for milk refreshed all the hidden wounds in the young mother's heart. And just as nobody is in control of their fears, feelings, hopes, or conscious mind, at this moment she was not in control. She started to cry softly, cuddling the baby to her heart. Suddenly she wished someone would be here for her, to listen, to care for her, to laugh at her stupidities with love, and to ease all her pain and problems. The tears and wishful thinking offered her some comfort and hope for the future.
With a smile, she realised that her baby had fallen asleep. She placed a kiss on his forehead and touched his soft cheek with hers. The way she treated the child with tender care showed off a natural bond between mother and child. But as she looked down at her child, fear rose within her. She knew their lives depended on each other. She didn't want a load of bitterness and spite to diminish her spirit.
Now as a mother, with her heart and her dreams on her child, she had to be strong. With the vision of extra money, a feeling of redemption, and the image of a healthy and decent life imprinted in her mind; she murmured to her sleeping baby: "I have to take my cousin's offer for helping us. I have to put my stubbornness aside. I'll let her babysit you so I can go to school and try to find any available job. I must leave my abusive past behind."
Her rational thinking calmed her. She continued: "I have to be stronger and bury all my pain in a shallow cloud to look forward to better days. Our lives depend on it."
With the uplifting belief in her mind, she suddenly looked confident and refreshed. The sun peeked from behind the dark clouds, and she knew that it takes strength to find the purpose to live with a new hope.
Shahla Latifi
02-15-2017